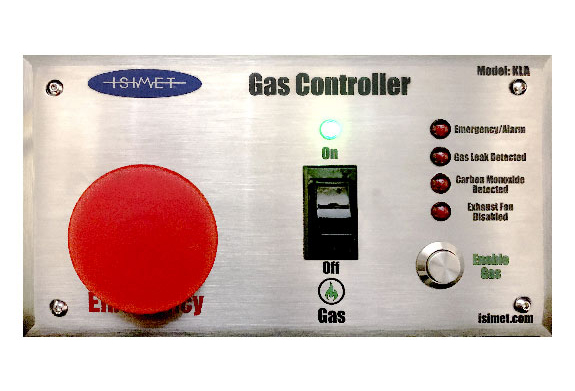 KLA COMMERCIAL KITCHEN GAS CONTROLLER
Commercial Kitchens
---
Helps prevent gas explosions in commercial kitchens.
Fuel Gas Sensor (optional) detects natural gas leaks; disables gas if leak is detected.
Fan Interlock prevents gas from flowing if exhaust fan is off.
Interfaces with carbon monoxide detectors.
Gas Pressure Transmitter (optional) performs gas pressure test prior to initialization of gas. Disables gas if test fails/leak is detected.
Programmable timer automatically turns off gas during non-business hours.
Helps prevent costly fire suppression system from activating.
Available in keyed and non-keyed versions.
Dimensons:
-Cover - 5.25" x 9.75"
-Box - 4.75" x 9.25" x 3" D
UL Listed.
---
KLA COMMERCIAL KITCHEN GAS CONTROLLER
2 KLA Versions Available :
Standard Features
On Both Versions
---
- All Metal Enclosure
- Brushed Stainless Steel Cover
- Flush or Surface Mount
Optional Gas Solenoid (½"-3" Sizes Available)
High-Voltage KLA-HV
---
- 120VAC (60Hz) Input
- 120VAC Circuit Output
Low-Voltage KLA-LV
---
- 24VDC Circuit Output
- 100-240VAC (50/60Hz) Input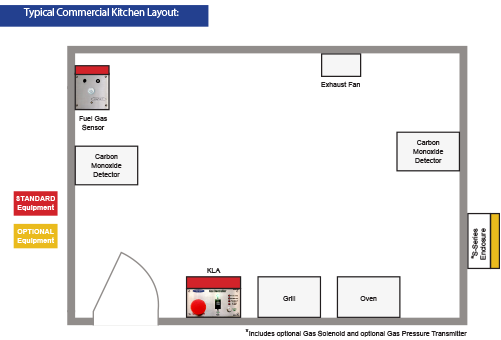 Downloads
Installation and Maintenance
Sales and Ordering
Engineering and Submittal